Hi friends,
Welcome to this week's City Country Life // Christmas Shopping.  City Country Life is a series run by me and the adorable Becca from Keeping up with the Joneses.  We love where we live and between us we cover topics of interest with Becca giving the 'City' slant and me putting forward the 'Country' perspective.
I can't quite believe we're in December, it seems only yesterday I was writing down my goals for the year and now we're hurtling towards Christmas and a new year with alarming velocity.
Yesterday I started my Christmas shopping, late? Probably.  I'm in the camp of people that can't even think about Christmas until December.  My tree will go up later in December.  Doing my shopping in July doesn't feel quite right to me.
Me and Jon love The Mall at Cribbs Causeway and have always kicked off our shopping up in Bristol, there's something about going to the city that is exciting and magical at Christmas time.  John Lewis in particular always gets me in the festive spirit with their displays of Christmas fayre and the store is always decked out so beautifully.
I always have to go in to John Lewis through the perfume/beauty section.  It feels like a treat to me, maybe I'm weird but the ladies and gents on the counter always have smiles on their faces and it oozes glamour, I love it.  I got one of my gifts from Liz Earle yesterday and some stocking fillers from the Toy Department too.
I can't help but wander around the more expensive departments too! Anything to do with home decor and designer fashion. I will be adding one of these Jo Malone candles to my wish list and maybe a Mulberry handbag too and an Alice Temperley creation, a girl can wish, right?
Look at this cute little cocktail kit, I should have picked up one of these as one of my girlfriends would love it.  Thank goodness for online shopping too!
Of course, we will be doing some local shopping too and using farm shops for locally sourced hamper gifts.  I absolutely love buying gifts for people.  The wrapping? Jon is an expert wrapper and we make a great team.
Where do you do your Christmas shopping, is there somewhere you always like to kick things off?  Are you a late shopper or get it all done early?
Lizzie xo
Want to join in with City Country Life? It couldn't be easier, simply grab our badge and link up your posts about where you live using the linky tools below.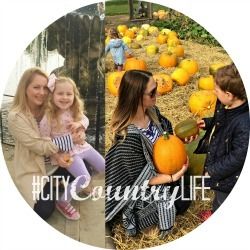 Loading InLinkz ...